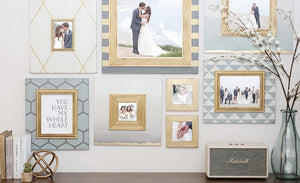 Wedding Season and the Hunt for the Perfect Gift
It's officially hot here in the South. I've been trying to use my time in the great indoors wisely. There have been a bunch of wedding shower invitation orders in progress and it has gotten me thinking… what are the latest shower gift ideas? As I prepare to celebrate my 8th wedding anniversary, it's been a blast to research what the modern bride is coming across these days. Here's what I've discovered:
Monogram Everything: Not sure this is so different than any other time in the south, but I LOVE that the monogram tradition is still going strong. Check out my friend Emma's adorable clutches that would be the perfect bridesmaid gift or bridal shower present: Emma Lyn Designs. Personalized Styrofoam Cups and Napkins have been a huge hit for Old Southern Charm this year and would make a great monogrammed gift idea too: Personalized Cups on Old Southern Charm

Shop Small: This is probably not a surprise, but the #shoplocal #shopsmall trend is very exciting to me. Small businesses are countering the power of corporate retailers and it's working. Nothing makes shopping less fun than when no one cares about you or why you're buying a certain item. I've found a couple of adorable small shops that deserve some love if you're in the market for a gift. Check out these fun gifts from Delta Girl Frames: Handmade Picture Frames. Lula Flora is another small shop that I turn to a lot for small gift ideas. Check out their mini pinatas … I'm dying for someone to use them with the Old Southern Charm Margarita Invitation. Who wouldn't want to be part of that fiesta?!

Florals are in! Have you seen all the pictures lately of brides getting ready on their wedding day, surrounded by their favorite friends in matching floral robes? It's a HUGE trend. Reminds me slightly of 1992 and Laura Ashley clad matching twin bed comforters… but I digress HA. I LOVE florals and really am glad the floral fashion statement is back! Check out these inexpensive, personalized sunglasses. A perfect surprise for the whole bride tribe!
I hope these bridesmaid gift trends get your gift-giving creative juices flowing. As always, I'm here to help brainstorm if needed! This month I'm launching 30 minute design consultations. They're FREE conference calls for clients needing a little extra TLC talking through party planning. Old Southern Charm is known as a One-Stop Hospitality Shop and my goal is to always make things easy on the party planner, bride, new-mom, and modern hostess. So stay in touch and we look forward to sharing more news on our NEW website next month!
---