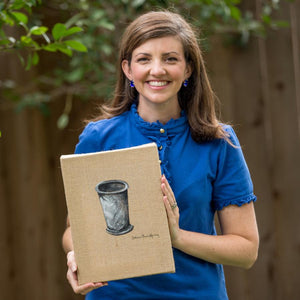 WELCOME! SO GLAD YOU'RE HERE.

I'm Catherine Pressly Herring, the artist behind Old Southern Charm or what I like to call my "One-Stop Hospitality Shop". I'm guessing you're on the hunt for party goods or maybe just planning for a future event? Well, if so - you're in the right place. I specialize in creating memorable party invitations, one-of-a-kind stationery, and custom party goods. All of my designs are hand painted and then reproduced by our expert printers to ensure the highest quality production. No flimsy paper around here!
Old Southern Charm's mission is to provide modern party conveniences with old world hospitality. Case in point: each order begins with a one-on-one collaboration and culminates with a handwritten thank you note. I can't wait to hear about your special plans! Thanks for considering Old Southern Charm for your paper goods needs. If I can be of help, please don't hesitate to reach out.
With Love and Gratitude,
Catherine 
Psst...Come Join The Party!
I'm more of a handwritten note kind of girl than a social media savvy sister...
The OSC newsletter is your best bet for staying in touch
+ A 20% OFF COUPON IS WAITING FOR ALL NEW SUBSCRIBERS: