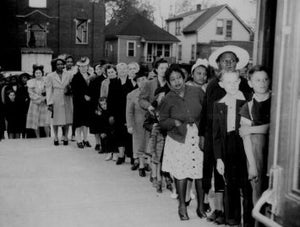 An Open Letter During COVID-19
Dear Friends and Family,
How are you? I pray that you and your loved ones are safe and sound during this unprecedented time. I've been quietly taking everything in over here, but wanted you to know that I've been thinking of you. As you've probably experienced too, the shock and adrenaline of "quarantine life" has now morphed into a feeling of grief for the old "normal" and all the celebrations that have been missed. It's undeniably hard. Over the last few weeks, I have worked with clients to figure out how to reschedule events; how to keep traditions alive in unusual circumstances; how to maintain the JOY when our calendars are out of our own control. There's an overarching feeling of helplessness. My grandmother shared with me recently about the fears she had during a similar time of uncertainty. At seven years old, her Dad left to serve in WWII for 42 straight months. She said it was heartbreaking. They were unsure about when things were ever going be back to normal, but the community always rallied around one another to get through. They were not in isolation.
COVID-19 has challenged our ability to cope by physically removing our support systems. Has your wedding / birthday party / graduation / annual Easter egg hunt / [insert your specific milestone] been put on the back burner because of social distancing? Loss of expectations can disorient us all, no matter what the circumstances. It's important to remember we are not alone, however. As my grandmother reminded me, we must rally together - even when we're physically apart! I hope you know I'm here for you and "at the ready" with any Old Southern Charm services you may need. Whether it's creating a road map for a future event, managing a past plan, or simply finding a way to celebrate from a safe distance, your vision matters. Life is meant to be celebrated. And it is specifically meant to be celebrated with others! Please let me know what I can do to help.
Looking forward to talking more soon.
With Love and Gratitude,
Catherine
 Photo Credit: Sugar Rationing, The National Archives
---